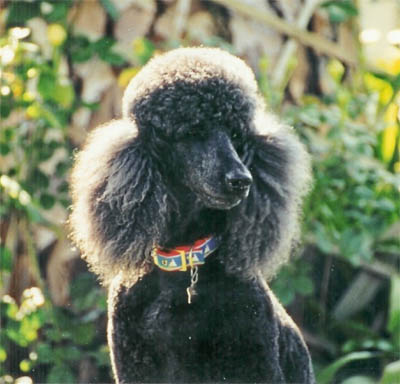 Meet Maggie Bonati
Maggie was Tricia Bonati's first Poodle and the inspiration for Florida Poodle Rescue. Many times dogs are described as "people in fur suits." Maggie was that and more. An "old soul," she was ready to help anyone and everyone. Her kindness was the hallmark of her life. She counseled and helped us figure out what was needed for the sad, bewildered and frightened pups when they came to Florida Poodle Rescue. For the remainder of her life, Maggie taught us how to be patient and giving to these dogs who needed us so desperately.
Maggie never missed a chance to indulge in her favorite treats. She knew how to work her family to get a cookie or another treat from the cabinet. She loved having an opportunity to go to the ice cream shop, and she even had her own "frequent shopper" card! Maggie was so special that a trio of men from McDonald's sang "Happy Birthday" to her as they delivered plain hamburgers in celebration of her special day. Who can say they have had McDonald's staffers sing to them?
Maggie's fame spread outside Florida Poodle Rescue as well. She participated in a variety of fashion shows for Saks and the Museum of Fine Arts and brought home hundreds of dollars to help the new rescues who kept arriving.
Maggie was one of the five dogs to judge the Bay Area's Best Tasting Dog Treats sponsored by the Tampa Tribune newspaper. Judging was to be on September 11, 2001 in the Tribune's newsroom. Needless to say, the judging was postponed on that fateful day. Maggie worked as hard that day as the hundreds of news reporters and photographers who documented the World Trade Center tragedy.  She was the therapy dog for dozens of people who were too proud to let themselves show emotion in the newsroom. Positioned near a conference room where dozens of pizzas and salads were spread on a polished wood table, Maggie let people she didn't even know pet her, hug her, and cry over her. And she never asked for a morsel to eat!  In fact, Tricia had to be called to ask how to get Maggie to eat or drink something. Years after the 9/11 tragedy, many people in the Tampa Tribune newsroom talked about how Maggie helped them cope that day.
In 2005, during her final days, when the other dogs became upset with her illness, Maggie somehow put them at peace. The night before her parting when her friends came to say good bye, she entertained them all, followed by one last walk in the park. She knew it would be her last and wanted to remember her time with family and friends. Her "Mother," Tricia, firmly believes that Maggie left on her own terms because she went to her "Grandmother's" room to pass. Maggie was that special.
A verse from Helen Keller describes our feelings for Maggie:
What we once enjoyed and deeply loved

We can never lose,

For all that we love deeply

Becomes a part of us.
When you thank Florida Poodle Rescue for bringing you the joy and companionship of a rescued Poodle, remember to thank Maggie as well.
We love you Maggie. You will always have a special place in our hearts.