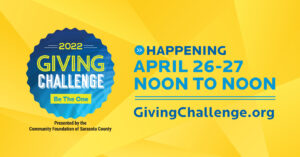 Mark your calendar!
The Giving Challenge is an exciting 24-hour online giving event that connects 700+ nonprofit organizations with passionate donors and community members. Sponsored by the Community Foundation of Sarasota County, with giving strengthened by The Patterson Foundation. ALL donations from $25.00 up to $100.00 made from noon on April 26 until noon on April 27 will be matched 1:1 by The Patterson Foundation! That means your $25 becomes $50; $50 becomes $100; $100 becomes $200. All donations are unique by individual. If you elect to donate $200, you can make two separate donations under two different names, and your $200 just became $400! But you must donate on the Giving Challenge web page for your donation to be eligible for the match.
All of our regular in-person fundraisers for the past two years have been cancelled due to the pandemic, and we are hopeful that The Giving Challenge will be a rousing success. Please plan to give as generously as possible!
Remember, April 26 — April 27!